Online Newsletter
Camerata's Recorded Music:
Special Orders for the Holidays
This website is your central clearing house for Camerata's numerous recordings, old and new. As many of you already know, Camerata's music -- Christmas and otherwise -- makes a terrific holiday gift. Most Camerata "classic" recordings are available through us, including the recent hit program A Mediterranean Christmas released last year.
The Boston Camerata and the Tero Saarinen Company return to Germany for Summer Festival Performances of Borrowed Light
August 21st, 2006: Boston, MA -- With hardly a beat after their triumphant week at the Jacob's Pillow Festival in western Massachussetts, Camerata musicians will be travelling to Berlin and Hamburg in late August for five further performances of Tero Saarinen's "Borrowed Light". This will be the second time that Camerata and the Tero Saarinen Company of Helsinki, Finland have teamed up to present this important dance-and-music work for German audiences. The German première shows took place in May, 2005 in Wolfsburg; this year's appearances are part of the Tanz im August (Berlin) and LAOKOON (Hamburg) Festivals. Performance dates can be consulted here.
After the recent Jacob's Pillow run, "Borrowed Light" received rave reviews from major media like the New York Times and the Boston Globe. Despite its cost and complexity as a fully staged theater experience, it is rapidly taking its place as one of the most in-demand productions in Camerata's repertoire. Negotiations for further performances are currently underway with presenters in New York and New Zealand. Stay tuned for more news!
________________________________________________________________________________
The Boston Camerata shines in Borrowed Light at Jacob's Pillow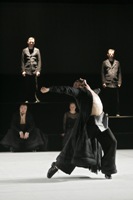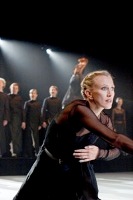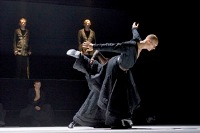 Becket, MA – The Boston Camerata is at it again. Music Director, Joel Cohen and his Camerata, in collaboration with the Finnish Contemporary Dance troupe the Tero Saarinen Dance Company, received standing ovations from the most enthusiastic crowds the Pillow has seen in years. Ella Baff, Executive Director of Jacob's Pillow, exclaimed that her audiences just "do not just stand up…" But boy, did they ever stand up. Each and every night after all six performances of the Shaker-inspired work, Borrowed Light, which had its US premier at the Jacob's Pillow Dance Festival in Becket, MA during the week of July 17 th.
The buzz following the performances could be heard as loudly as the wildly clapping audiences. The Boston Globe hailed, Exquisite voices…powerful, strikingly original; the New York Times described the performances as Seraphic; the Village Voice raved, You could weep at the beauty of it – indeed at the beauty and strength of its…marvelous performers; the Boston Phoenix shouted, Thrilling; and the Berkshire Eagle proclaimed, Spellbinding and added to Come, see and experience.
Borrowed Light dates from 2004, having its premier performance at the Octobre en Normandie festival in Le Havre, France. Since that time, Borrowed Light has been performed in England, Finland, Germany, Italy, Sweden and the United States performing in such venues as The Queen Elizabeth Hall (London), Dansens Hus (Stockholm), and the Finnish National Opera (Helsinki). Including the performances at Jacob's Pillow and the upcomingperformances in Berlin and Hamburg in late August, Borrowed Light will amass 27 performances worldwide.
For more information on Borrowed Light, visit the Boston Camerata's website at www.bostoncamerata.org and the Tero Saarinen Company's website at www.terosaarinen.com.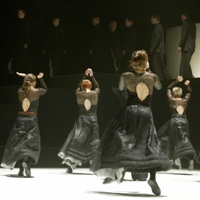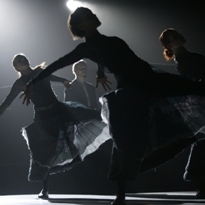 To hear the music of Borrowed Light, listen to Simple Gifts: Shaker Chants and Spirituals (APEX recording 2564-60367-2) and The Golden Harvest: More Shaker Chants and Spirituals (Glissando recording 779-020-2) by the Boston Camerata. They are available for purchase via the Camerata's website and at CD stores worldwide.
________________________________________________________________________________________
Boston Performers Schedule Israel-Lebanon Relief Event
Boston, July 27 – An ad-hoc coalition of prominent Boston-area performers will be singing, playing, and declaiming at a free concert on Monday, August 7, all in an effort to raise funds for civilian victims of the conflict between Israel and Lebanon.
"This event will be non-sectarian, non-partisan and non-political," insists Boston Camerata director Joel Cohen, one of the event's organizers. "But it is clear that all of the participants, like so many of us in the public at large, are horrified by this recent violence. We want to do something to help those who suffer from it."
"We have gotten different segments of the Boston arts community working together on this," continues co-producer Kareem Roustom, a Syrian-American composer and member of the Sharq Arab-American ensemble. "We'll have topnotch performers representing theatre, classical and early music, Arabic, Sephardic-Jewish, and Turkish styles, as well as American music. We've discovered that many performing artists want to be a part of this. So many of us want to contribute what we can."
The evening will include appearance by members of the following institutions and organizations (organization names supplied for identification purposes only): American Repertory Theater; The Boston Camerata; The Boston Philharmonic; Dünya Turkish Music Ensemble; Emmanuel Music; From the Top; Sharq Arab-American Ensemble; Voices of Black Persuasion; Yiddish Community Chorus of the Workmen's Circle
The performance roster, still incomplete as other artists are added, includes Anne Azéma, Vivian Cooley-Collier and Buddy Hughes, Jeremy Geidt, Mehmet Sanlikol, and Craig Smith.
Time for the benefit concert is 8 PM on Monday, August 7. The doors of Emmanuel Church in Boston's Back Bay will be open to all and admission is free. Donations will be requested from audience members with proceeds going to the International Red Cross; other charities have been invited to be present to accept gifts as well in the church foyer.
Emmanuel Church, on Newbury Street next to the Ritz-Carlton Hotel and just a block from the Boston Public Garden, is easily reachable by public transportation via the Arlington and Copley Square T stops.
WHAT: A Benefit Concert for Civilian Victims of the Israeli-Lebanese Conflict WHO: Members of many Boston-area performing arts organizations WHERE: Emmanuel Church, Newbury Street, Back Bay, Boston WHEN: Monday August 7, 8 P.M., admission free, voluntary donations Contact: Yasmina Kamal, relief-effort@hotmail.com
________________________________________________________________________________________
CAMERATA AND TERO SAARINEN DANCE CO. TO PERFORM AT JACOB'S PILLOW
Regular readers of bostoncamerata.org know that the dance production, "Borrowed Light", which Camerata has been performing in Europe for the last two seasons with the Tero Saarinen dance company of Helsinki, Finland, has been the talk of the contemporary dance scene abroad.
Now, we are delighted to announce that this extraordinary production, featuring original choreography by Saarinen, danced to original Shaker songs performed live by The Boston Camerata, will finally be having its American première performances. The place is the reknowned Jacob's Pillow Dance Festival in Lee, Massachussetts, and the dates are July 19-23.
What's it going to be like? Well, the critic of the London Independent put it this way:
"I've not seen, or experienced, anything like it."
And here's how the Festival describes it:
"Inspired by the Shaker movement of the 17th and 18th centuries, this evening-length work of dance and music is arranged in a simple, thrilling progression, and culminates as a vision of dramatic clarity. While the eight-person Boston Camerata ensemble sings a capella Shaker songs onstage, dancers curve and wheel across the stage or appear on raised platforms at its perimeter, articulating the wanderings of the soul with magical force."
We asked Joel Cohen what to expect, and he offered this:
"Of all Camerata's collaborations to date in music theater, and some of these have been very important to us, I find 'Borrowed Light' to be the richest and deepest. Tero is a major creator, and his company, like ours, is composed of fantastically skilled soloist-level professionals who nonetheless work superbly as a team. The synergy between the two groups working together onstage is a joy to behold.
"I'd like to send a headsup to music and dance lovers -- 'Borrowed Light' is NOT 'Appalachian Spring', and it's NOT an evening of Shaker folkdance. The London critic had it right -- come and see for yourselves."
CAMERATA HIGHLIGHTS OF 2005
It was a busy year with some of the most intense touring of recent seasons; a creative year as a beautiful, brand-new Camerata recording appeared on the marketplace; as well as a year of celebration and thanksgiving as we fêted our fiftieth anniversary with friends in Paris and Boston.
February
Off for an extensive winter tour of "New Britain", west and south of Boston. Among the highlights, a reunion in Nashville with Hazel and Murray Somerville, Hazel's boy choir chiming in with us at the local concert.
April
The month begins with a marvelous 50th anniversary celebration in Paris, including a sold-out standing ovation performance of "Nueva España" at the Théatre de la Ville and then, backstage a lively post-concert party in Sarah Bernhardt's former dressing room. The womens' choir of Les Amis de la Sagesse joined us for both events, and Joel received a French government medal pinned on his chest at the second one.

We see again many French and European supporters and encouragers of our music over the years, and feel surrounded by love and friendship. Thanks, Suzanne!
We spend much of the remainder of April in Europe, touring the "Borrowed Light" production with Tero Saarinen's Finnish dance company. The crowds in England and Sweden love the Shaker music and the dancing; and we love the Italian food and architecture; even thought the folks in that country were a little perplexed by the show.
May
Back to Europe for two performances with Tero's company in, of all places, the Volkswagen industrial complex at Wolfsburg, Germany. We go for walks around the nearby medieval castle to escape the creepy 1930's ambiance; audiences and journalists rate the performances a great success.
June
Another anniversary bash, this time at the Boston Early Music Festival. To celebrate our 50 th, Camerata performs "Carmina Burana" at Jordan Hall, and at concert's end the Camerata's Board chairman Sandi Bagley wheels in a big birthday cake! Former Camerata musicians and music directors join us onstage. Joel is especially touched by the presence of his student-days mentor Victor Mattfeld. Post-concert hall, a reception reunites American musicians, friends, and supporters from across the years (see photo below). Our cup runneth over, and we pour the excess into new plans and projects for the coming half-century.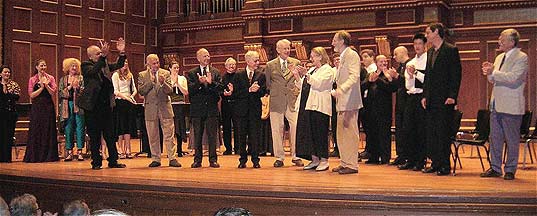 July
The cast of the December, 2004 "A Mediterranean Christmas" comes together in 90 degree heat to record that program for Warner Classics at Boston's Church of the Covenant (see photo below).

The musicians are hot, in every sense of the word, as the enthusiastic reviews make evident six months later. David Griesinger once again provides Camerata with superb recorded sound.
September
We teach and sing troubadour songs in the French village of Coaraze, then move to Helsinki for a week's run of "Borrowed Light" at the Opera House – sold-out halls every night!
October
Camerata moves to wonderful new offices at the Jesuit Urban Center on Harrison Avenue in Boston. Musicians love the magnificent architecture and generous acoustics of the church where our rehearsals now take place. Our in-town season begins with a celebration of the Italian Renaissance. Ronald G. Vigue arrives as our new Executive Director.
November
Following on our successful appearances there in 2004, the October in Normandy Festival invites Camerata for two performances of "Nueva España" in beautiful, under heated medieval churches. Chilly, but exhilarating! Joel, in London and Paris, does promotional interviews for the new recording on BBC and Radio France.
December
A busy touring schedule, as happens every December. The heavenly acoustics in the big Polish basilica of Milwaukee are something to write home about.
The new recording of "A Mediterranean Christmas" is out, and receives rave reviews just about every time it is mentioned. Radio Canada and the Boston Globe each place it among the top CD releases of 2005.
We plan some important touring appearances for seasons to come, including (we hope) the American première of "Borrowed Light", a European tour for the renovated and renewed "Sacred Bridge" program, and a major residency. Happy 2006 to one and all!