Camerata Day IN THE CITY OF BOSTON
A 50th ANNIVERSARY BASH RIGHT AT HOME
Folks, it was a great party.
As our June 18 50th anniversary performance at the Boston Early Music Festival drew to an end (Carmina Burana, huge audience, monster ovation), Camerata musicians from the 'pioneer' days of the 1950's joined us onstage (see photo), the lights dimmed, a sumpuous birthday cake was wheeled out by a posse of local kids, and board chairman Sandi Bagley read a declaration from the Boston City Council. It was Boston Camerata Day in our hometown, the city of Boston, and we couldn't have been more pleased.
Our thanks to Camerata pioneers Richard Conrad, Charles Fassett, Victor Mattfeld (Joel Cohen's acknowledged mentor and guide), Daniel Pinkham, and Friedrich and Ingeborg von Huene for being with us, as well as to the many other Camerata collaborators, past and present, who were among the Jordan Hall audience. Such a reunion/celebration, besides honoring the memory of the many, many folks who helped Camerata make it to this point, is also a wonderful launch for the next half-century. Please fasten your seat belts.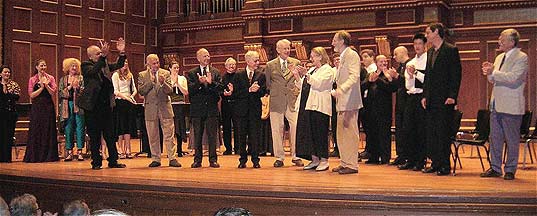 photo by Ben Dunham

WARNER CLASSICS TO ISSUE
A Mediterranean Christmas ON CD
A good starter event for the second 50 years too shape in late June and early July as the international cast of "A Mediterranean Christmas", the smash-hit production from December, 2005, reunited at the Church of the Covenant, Boston. The purpose: to record the musical production for CD release by London-based Warner Classics. David Griesinger, distinguished sound artist for many of Camerata's previous recoirdings, was once again the engineer. Digital editing was completed in late July, and you can expect this new release, Camerata's first in several seasons, to be available this fall. Joel and David tell us they are very happy with the result.
MANY CAMERATA CLASSIC CD RECORDINGS
NEWLY AVAILABLE
As you know, when Erato closed its doors several years back, we were quite concerned about the future of Camerata's numerous recordings for that French label. We are pleased to report that Warner Classics, which inherited the Erato master tapes, has undertaken an ambitious program of reissues, and that many of the Camerata's finest recorded achievements are once again in print, from the Carmina Burana to Johnny Johnson. Please click here for information on how to obtain these titles. Yes, there are more coming still!

HEARTBREAKING PURITY:
BORROWED LIGHT
TRIUMPHS IN LONDON

Queen Elizabeth Hall in London was at near capacity on April 6 for the United Kingdom premiere of "Borrowed Light", presented jointly by the Tero Saarinen Dance Company of Helsinki and the Boston Camerata. An extensive ovation greeted both ensembles at the performances' end, and comments in the written press were equally enthusiastic.

The Evening Standard lauded Saarinen's choreography, which, the critic remarked, "catches the music's wonder but avoids being too literal or evangelical."

Camerata's singers, performing songs of the Shaker community, were accorded unanimous praise. The Guardian noted the "beautifully honed simplicity of the songs....performed with heartbreaking purity by the Boston Camerata."

" Hauntingly melodious...all the singers are outstanding in the purity of their tone and harmony", remarked the critic of the Observer.

" The music was memorable, the voices as keen and clean as a Shaker bread knife", wrote the critic of the Independent, who summed up her experience with this closing phrase: "I've never seen, or experienced, anything like it."

More performances of "Borrowed Light" are to come this spring and summer in Italy, Sweden, Germany, and Finland.
---
PARIS GIVES CAMERATA A BIRTHDAY PARTY

Performing "Nueva España," its now-classic New World program, Camerata's musicians (assisted by the singers from Les Amis de la Sagesse, Dorchester) scored a triumph at Paris' Theatre de la Ville last April 2.


The centrally located municipal theater, where Camerata débuted with "Dido and Aeneas" in distant 1980, was offering us a 50th birthday celebration. The thousand seat hall was sold out weeks in advance, our viruoso singers and players, who never sounded better, received ovation upon ovation, and people were singing "Happy Birthday" to us (in English) from their seats. So much for supposed Franco-American tensions.

At the post-concert ceremony Camerata music director Joel Cohen was promoted to Officier in the Ordres des Arts et des Lettres of the French Republic -- theater director Gérard Violette (photo, right) pinned on the medal while the deputy Mayor of Paris looked on.
---
CAMERATA'S STRENUOUS (BUT MUSICAL) SPRING

It's going to be a marathon for Camerata musicians in the coming weeks and months, just on the heels of a very successful national U.S. tour.

We spend most of April in Europe -- first, with a big birthday bash at the Théatre de la Ville, Paris on April 2. The program will be "Nueva España" -- and accompanying us to Paris will be the womens' choir of the Les Amis de la Sagesse church of Dorchester, MA. We hear the hall is already sold out, but hey, come on along anyway.

A few days after the Paris event we will be at Queen Elizabeth Hall, London, singing Shaker songs while Tero Saarinen's company dances the extraordinary work, "Borrowed Light", first seen in Le Havre last fall. We then travel with Tero's troupe to Italy, for a series of dance performances there, and thence to Stockholm for two more of these.

In May we are back in Europe for two shows of "Borrowed Light" in Germany; then we prepare for our second big 50th birthday celebration, this one at the Boston Early Music Festival on June 18. The program is an audience favorite, "Carmina Burana", and we hope to have lots of friends onstage to rejoice with us at concert's end.

Summer months have more music in store, in Finland and France, we'll keep you posted!
---

SUMMER WORKSHOP DATES NOW SET


Inscriptions for our ninth annual summer workshop in medieval song are now open. The place, as always, is the magnificent hilltop village of Coaraze, in southern France, just a few miles from the Italian border. Our guest instructor in instrumental accompaniment is the distinguished early harp specialist Cheryl Anne Fulton, and as always Anne Azéma, Joel Cohen, and Pierre Bec will be present to share their knowledge and enthusiasm for troubadours, trouvères, and related repertoires. The dates this year are August 20 to 28, and you can find out more by clicking here