Home | About The Camerata | Latest News | Recordings | Musician Biographies
Tours | Greater Boston Concert Series | Summer Workshop in Provence
---

2002

Hello! Bonjour!

If you like early music, or music in general, this is a good place to be. Our page is about one ensemble, The Boston Camerata, but there is plenty here to interest all kinds of human beings. We aim to provide:
news of our music (updated regularly),

a description of who we are and what we do,

a current discography, (including tons of fascinating and hard-to-find info on early music)

a touring and recording schedule,

for Boston-area friends, an announcement of our 2001-2002 intown season.

biographical sketches of Camerata's musicians,

and other important stuff we haven't thought of yet.
Please check back here from time to time, as we will try to keep our information current.

---
An Award for Camerata's Music Director

Joel Cohen will be the recipient of the2002 Georges Longy Achievement Award for Musical Artistry and Leadership. The award ceremony will take place at Symphony Hall, Boston, on June 17, during a gala dinner organized by the Longy School of Music, Cambridge. Joel tells us he is especially pleased to be receiving this honor because of his years of study with Nadia Boulanger in Paris. "Mademoiselle spent the Second World War years teaching at the Longy School," he writes, "and she would occasionally mention those times during lessons at her Paris apartment. I feel an increased link with the school, and with her, as a result of this recent event." Our congratulations to Joel, and our thanks to Longy!
---
Summer Worshop in Provence

There are still some openings from our by-now-famous workshop in medieval song, held annually each September in Coaraze, a beautiful and ancient village north of Nice, a few miles from the Italian border. If you want to breathe Mediterranean air, see Mediterranean light, and immerse yourself in the poetry and music of the Provençal troubadours, you can get more info by clicking here. We're Americans, too. Camerata director Joel Cohen, assisted by Camerata soloists Anne Azéma and Deborah Rentz-Moore, will also be giving a two-day workshop on Shaker song in early July, as part of the Kodaly Institute Summer Workshop. Classes will be taking place at the New England Conservatory, Boston.
---
The Cantigas are coming.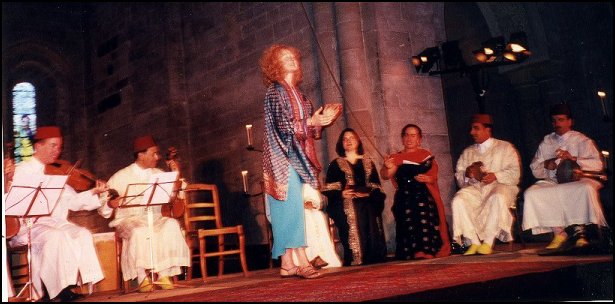 Along with our Shaker programs, we consider the interfaith Cantigas program, featuring Christian, Jewish, and Moslem sacred song of medieval Spain, to count among our most important work of recent years. As the crisis in the Middle East raged on, our cast gave mid-April performances of this program in Germany (Berlin and Erfurt). We are now happy to announce that this history-making collaboration among the Boston Camerata, the Camerata Mediterannea, and the Abdelkrim Rais Orchestra of Fez, Morocco, will be touring in the United States in early November, 2002. Here is the schedule: 11/01/02, Tucson, AZ 11/03/02, Los Angeles, CA 11/05/02, University of Chicago 11/07/02, Ann Arbor MI 11/08/02, College Park, MD 11/09/02, New London, CT 11/10/02, Boston MA (Celebrity Series)
The candid snapshot, above, was taken by an enthusiast in the audience at the most recent performance of Cantigas, last July, in a French medieval abbey. The photo may be fuzzy, but the performance was not. The French audience, like the preceding one in Dresden, Germany, last May, stood and cheered for about twenty minutes before they allowed the musicians to leave the stage. Stay tuned here for more news on the upcoming U.S. Cantigas tour.
---

Orgy, anyone? The "orgies" of the Harvard University radio station, WHRB, are world famous for presenting many hours on end of recorded sound by a single composer, artist, or musical style. The Boston Camerata was honored to get its own WHRB orgy, for the first time, on May 25 last. Producer and presenter for these eleven hours of recorded music from Camerata's discography was our friend and associate Victoria de Ménil, who in recent seasons has participated as a performer on several of our projects.And you can click here for more Camerata news
---

Click on this link for more info concerning Camerata director Joel Cohen; or send him mail by clicking here.


---


Please have a look at the record listings. The Boston Camerata has made lots of recordings (more, we guess, then any other early-music group in the New World). Many of these recorded programs have won international awards and distinctions. They all contain terrific music. In the recording links we invite you to explore, you can find tracklistings and/or extensive program notes for most of the titles, some song texts, and now even a few sound clips here and there (more of these to come). We aim to give good information on our current CD's for record buyers, prospective concert presenters, and early-music mavens. There is much in the program notes for students of music history.

Boston Camerata OnLine Newsletter Archives:
Our offices are located at775 Harrison Avenue, Boston, MA 02118 USA.
(617)-262-2092.
©2003 by The Boston Camerata. Inc.
"A perfect example of what a web site can be when set up by passionate musical performers"
-- Goldberg Magazine, Madrid