CAMERATA HIGHLIGHTS OF 2004
There was lots of music to remember in the year just gone by.....Not everything in the "big" world out there was to our liking, but in our the muses regularly showered us with their favors and graces, enabling us to soothe the stresses from those external events with something like a healing balm.
February
Joel Cohen's first trip to Helsinki to work with the Tero Saarinen Dance Company.   The thrill of discovering a plucky, independent "sister" ensemble, doing cutting-edge work in a related field — and the discovery, in the far North of Europe, of what it means to get REALLY cold.
March
Joel and Anne Azéma participate in a conference on early Jewish music in a remote village of southern Italy. We see the places where Obadiah the Proselyte grew up, meet some of the most hospitable people on the planet, and eat way too much pasta. Jennifer Kyte joins the Camerata team as Executive Director and the rest of us all cheer.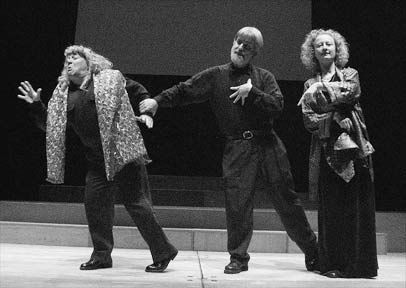 April
Fauvel lives!   The medieval satire about an evil horse, symbol of political and moral corruption, tours Paris, Boston, and New York.   At the Paris venue, the original Fauvel manuscript is on display a few feet from the stage where we perform.    After the Boston performance, a neat party kicks off Camerata's fiftieth anniversary celebration.  
May
We perform Elizabethan music for the excellent Gilmore Keyboard Festival in Kalamazoo, Michigan. Francie Fitch distinguishes herself with virtuoso solo work on organ and harpsichord.
August
In the medieval village of St. Guilhem le Desert, we celebrate the Saint's life with a special program recounting his military exploits, conversion, and joust with the Devil. The audience sings along, happy to know that in this case, the good guy won.
September
The annual workshop in Coaraze, France brings another fine crop of young professionals into contact with the medieval song of Provence, France, and Spain.   On another note, Camerata brings early American spirituals to a series of enthusiastic audiences in Normandy.
October
Tero Saarinen's intense, personal vision of the religious life is danced to Camerata's singing during two exceptional and intense performances in Le Havre, France.   Borrowed Light, as the production is called, is scheduled for numerous further performances in 2005.


November
The 50th Anniversary Season begins with an unusual-for-Camerata but highly relevant work.   Kurt Weill's 1936 musical Johnny Johnson, about a young American soldier who comes to grief during World War I, is presented in Camerata's production by the Fleet Celebrity Series.   Coming just a few days after the intensely fought presidential campaign, the performance generates palpable emotion both in the hall and onstage.   Our much larger-than-usual cast outdoes itself; among others, veteran soloist Don Wilkinson excels as Johnny.

Later in the month, Camerata makes its London début at historic Stationer's Hall, in the Roman de Fauvel. Michael Collver is once again the Horse of Ages, and the very upscale London crowd whinnies back its approval.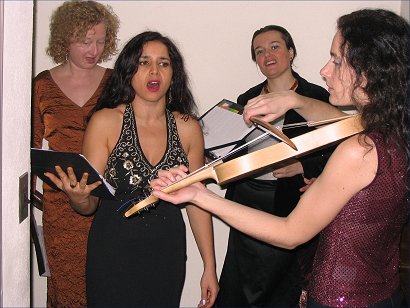 December
We are reunited in good fellowship with most of the members of the 2000 U.S. "Cantigas" tour.    An extraordinary series of concerts results as musicians from the U.S., U.K., Spain, France, Algeria, Morocco, Syria, and Egypt meld their talents to bring the roots of Christmas music back to life.  
Then, on Christmas Day, in Cologne, Germany, the original Cantigas production plays before 1,300 people at Philharmonic Hall.   Our friends and colleagues from Morocco, most of who were shamefully barred from entry into the U.S. in 2000, are once again united with us onstage, and that is cause for rejoicing. Another cause is the presence of our London "angel" Annick as road manager.   A beautiful end to our year of music.
And our thanks to all of you, friends and supporters, Paul and Jane and everyone else on board/on the board, for helping us to keep this wonderful and important music alive.
---
CAMERATA TRIUMPHS IN
PARIS, NEW YORK AND BOSTON
WITH ROMAN DE FAUVEL
Our April production of the famous Roman de Fauvel was inspired by a return invitation to the Cité de la Musique in Paris. There, Camerata musicians once again scored a major hit with the Paris concert-going public. Along with our performance of this acerbic medieval satire, an exhibit of medieval musical documents had been organized right within the walls of the Cité, including the original, and priceless, Fauvel manuscript itself. This extraordinary event was the subject of an extensive write-up in Le Monde (as well as a poster campaign in the Paris Metro). A few days later, audiences in New York and Boston got to enjoy the production -- minus, alas, the manuscript, which had to stay behind its glass case in Paris.
Camerata's next trip abroad will be taking place in October -- more on that project soon.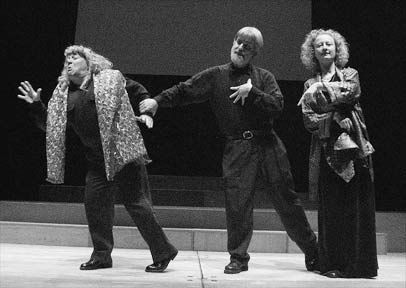 Tim Evans (Vain Glory), Michael Collver (Fauvel), and Anne Azéma (Dame Fortune) performing in Paris