Home | About The Camerata | Latest News | Recordings | Musician Biographies
Tours | Greater Boston Concert Series | Summer Workshop in Provence

Summer-Fall 1997
---
Camerata and Shakers in New Collaboration
<!IMG SRC="../images/shakr01a.jpg" ALT="Camerata and the Shakers in concert">

The Shaker Communitiy of Sabbathday Lake Maine (the only still-extant Shaker community) made a very rare public appearance with the Boston Camerata last November 21, at Boston's historic Faneuil Hall. The occasion was a Thanksgiving-season program of Shaker songs, entitled "Gifts of Thanks." Much of the music was recently transcribed by Joel Cohen from priceless original manuscripts at the Shaker Library. Along with songs from the widely-acclaimed Simple Gifts recording, Camerata and the Shakers (assisted by the Youth pro Musica and the Harvard University Choir) sang a number of newly edited and beautiful works in what were probably their first performances in this century.
A Simple Gift
Well, not a gift exactly -- but we have received a grant from the National Endowment for the Arts for live performances of Simple Gifts, the award-winning program of Shaker chants and spirituals. A word to the wise: If your community, school, or institution is interested in presenting Simple Gifts in 1998-9, the time to contact us is now.
---
Village Harmony
<!IMG SRC="../images/shakvill.jpg" ALT="Village Harmony" ALIGN=right>We just (September 97) finished recording another early-American music program, to be entitled Village Harmony on its release sometime next year. Not a spiritual album this time -- we decided it was time to look at secular music from the American past. Included are marches, patriotic songs, ballads, and an R-rated version of Yankee Doodle (no kidding, it was a raunchy song).
---
Three bestselling CD's on the HMV Chart
Our spies in Cambridge, Massachusetts report that over the summer months no less than three of our current CD's were gracing the Classical bestseller chart at the HMV store, Harvard Square.



Angels was number three;



Le Jeu d'Amour by Anne Azéma was number four;



Carmina Burana (the most recent release) began as number ten, and rose to number two!

Congratulations, Erato!
---
The Boston Camerata's Nueva Espańa
at the Morelia (Mexico) Music Festival,
July 19, 1997
some press excerpts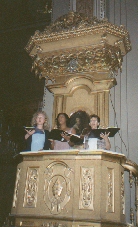 from La Jornada (Mexico City):
"A fiesta of sound from the Boston Camerata...fantastic voices...spectacular...an authentic delight."
from Cambio (Morelia):
"Musical magic...one of the most outstanding concerts in the history of the Festival...angelic singing...The public, enchanted, responded with an ovation of loud applause and stamping of feet."
from La Voz de Michoacan (Morelia):
"The exchange of energy between the performers and the audience made for a unique atmosphere... The musicians of the Boston Camerata appear to emanate a kind of luminous halo."
What then is love?
That is the question. It's also the title of the Camerata's recent recording project for Erato. We made it last May at the somewhat-screwball-yet-charming Music Hall in Methuen, Ma. (The photo at the left shows some of us on a break between takes) Our previous venture into Elizabethan repertoire, Farewell Unkind: Songs and Dances of John Dowland was a critical hit in Europe, The Dowland CD won top-level disctinctions from Répertoire and Le Monde de la Musique, plus a nomination for the Grand Prix des Discophiles. This one, too, will contain some choice songs by the great Dowland, as well as works by Pilkington, Daniel, Ford, Robert Jones, and other outstanding songwriters of the Shakespearean age. Expect a 1998 release for this anthology.


Summer Workshop in Provence


<!IMG SRC="http://members.aol.com/trobador/coaraz2a.jpg">
The workshop in Medieval song is now a memory, but what a memory! A week of troubadour songs in a spectacular setting (see above)...We hope to continue this activity. See you in beautiful Coaraze next year?
Pape Musique
<!IMG SRC="../images/avigpope.gif" WIDTH=130 HEIGHT=100 align="right"> Camerata soloists Azéma, Cohen, and Lepkoff inaugurated a major exhibit of medieval tapestries with a special concert in Avignon last June. The event took place inside the fourteenth-century Pope's Palace, one of the more awesome monuments of Provence (or anywhere else, for that matter). Ever since the Middle Ages, Avignon has been reputed as something of a rough-and-tumble city. The poet Petrarch, who made his living as a bureaucrat in the Papal court, just hated the place; but then, he was a notorious old grump. At any rate, just for the record, Joel Cohen reports that someone in Avignon stole his motor scooter.

Everything else about the concert went well, however. The same musicians will be playing some of the same beautiful music in western Massachusetts next fall (please check our schedule page for details.)
Recording "Sweet Beauty"
Camerata's program of French courtly airs circa 1610, entitled Douce Beauté, brought the house down when we performed it at the Versailles opera a couple of seasons back. Last April we recorded the program for Erato, at the aforementioned Methuen (Ma.) Music Hall, a late-nineteenth century Temple of Music with a monumentally outsized organ (not used by us), and excellent acoustics (used by us). Look for a 1998 release date.

"Something rather wonderful," said the normally staid London Times on May 25. The latest, and probably the most unusual production in Camerata's history is a new release in Europe and the U.S. (where it has quickly risen to number 5 bestseller on the HMV classical chart).

"Angels" features soloists and instrumentalists from the Boston Camerata, members of the Harvard University Choir (directed by board member Murray Forbes Somerville), the Youth Pro Musica (directed by board member Hazel Somerville), the Boston Shawm & Sackbut Ensemble, and -- last but by no means least -- a beautiful, unearthly web of synthesized sound created by composer Tod Machover . The underlying repertoire consists of medieval songs and chants, together with early American hymns and spirituals. There are also some newly-transcribed Shaker songs, never publicly performed until now. But Camerata director Joel Cohen insists that this is not an early music record. What is it then? You can click here for a synopsis of the program. But, dear reader, in the last analysis, you will have to find out for yourself....

N.B. If your neighborhood Angel Mart is out of stock and you want to buy the CD from us, you can do so from our discography page.
The Game of Love:
Accolades in France.

Our own Anne Azéma's newest traversal of medieval French song repertoire is now available on CD . Erato released the recording right about the time that Anne and colleagues Lepkoff, Kammen, and Tindemans were scheduled to perform the same music in the Boston area, and on a national tour. The new recording is number six on the classical bestseller charts at HMV, Harvard Square, Cambridge, and has just won a perfect "10" from the French record review Répertoire.

Anne's first CD, The Unicorn , also recorded with musicians who frequently collaborate with Camerata, was nominated for the Grand Prix des Discophiles in France, and won Anne a commendation as an outstanding new artist of the year from Gramophone. The new program, "The Game of Love," was heard on May 2 at the First Church in Cambridge, as the last event in Camerata's 1996-7 intown series. You can read Anne's biography, and view a photo of the rest of her face, by clicking on Anne Azéma's home page.

Honors abound.

The awards kept on pouring in last year, and continue into 1997. Of course, worldly glory needs to be taken with a grain of salt -- at least, that's what we kept on telling ourselves. But the current rain of distinctions indicates (so we believe) that indeed we are doing something right. We also hope that our circle of friends and supporters will share, along with musicians and board members, our good feelings about these honors. Congratulations to us all!

THE BOSTON CAMERATA'S
AWARDS & DISTINCTIONS 1996-7



1997

June: "10," Repertoire (Paris) for Anne Azéma's "Le Jeu d'Amour"


April: Florence Gould Foundation grant for presenting American music in France


March: National Endowment for the Arts Awards, for U.S. performances of Shaker music


January: "10," Répertoire (Paris): Carmina Burana


January: Dowland, "Farewell Unkind," nominated for the Grand Prix des Discophiles



1996

December: Critic's Choice, Gramophone (London): Simple Gifts


December: Top Ten music events, The Boston Globe: Johnny Johnson in concert


December: Best Early Music Recording, The Boston Globe: Trav'ling Home


October: Top rating, BBC Music Magazine: Trav'ling Home


October: Joel Cohen nominated for Mass. Cultural Council award


October: Boston Camerata nominated for Mass. Cultural Council award


June: "Choc," Le Monde de la Musique: Dowland, Farewell Unkind


June: "10," Répertoire (Paris): Dowland, Farewell Unkind


May: "Choc", Le Monde de la Musique: Simple Gifts

---
Please click here to return to The Boston Camerata Home Page.