January: a benefit concert for the late John Fleagle. The doctors couldn't save our friend John, and o how we miss him. But the concert, involving Camerata and many other musicians, got John and his family out of debt.
February: Fauvel in France. It was fun to do this classic French satire for French audiences. Then we come back to the States and read the texts in English for folks in Boston and New York.
May: The Cantigas in Bergen Norway, with Camerata Mediterranea and our friends from the Andalusian orchestra in Fez. Joel liked dressing up in a djellabah. We all like the part where the King of Norway told us he was pleased with our work.
June: Nueva Espańa for the Boston Early Music Festival. As they say, a picture is worth a thousand words.
June-July: Tristan and Iseult in Graz, Austria. Our first concert in that beautiful country. An honor to meet Nicholas Harnoncourt, director of that festival. An American Vocalist in western France. Such nice people there, and such great fish...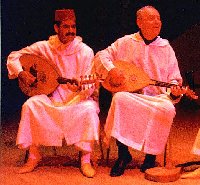 September: More Cantigas, in Alsace and Germany. The recording comes out, and got a perfect "10" from two different record mags in France and Holland. The New York Times praises our recent CD's of Elizabethan lute songs (What Then is Love, and Farewell Unkind.)
October: A memorable visit to Pontoise, France with the Nueva Espańa program, the first time we have performed this music in Europe. Joel goes to Amsterdam to accept a nomination from the Dutch government as artist-in -residence for the Netherlands during the year 2000. Mayor Menino of Boston issues a proclamation honoring the Camerata.
November: The national media discovers the Shakers (we knew about them already). In New York, the Lincoln Center audience audience roars its approval as the Shakers, the Harvard University Choir, and the Camerata, sing their collective hearts out at a unique, never-to-be-forgotten concert.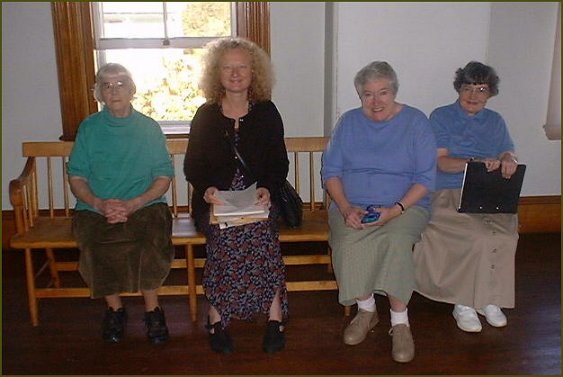 December: The TWENTY-FIFTH anniversary of A Medieval Christmas. In a season marked at once by loss and joy, Joel asks, "Where have the years gone?" The answer: singing and playing the music we love.
---
Shakers prepare November concerts with Camerata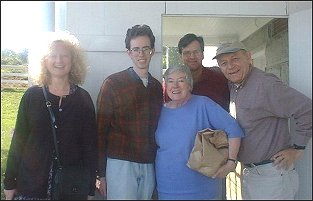 Contrary to popular belief, the Shakers are not simply a part of the past. They are a small, living community in Sabbathday Lake, Maine, and they made some rare public appearances this season, in concert with The Boston Camerata. The November events took place in Burlington, Vermont and at Lincoln Center, New York City.

Shaker music, still little known, is one of the great treasures of American civilization. Our earlier recorded collaboration with the Shaker communuty, the Simple Gifts CD, provided the basis for this fall's joint appearances. But there was also new material, recently transcribed by Camerata director Joel Cohen from original manuscripts in the Maine Shaker archives.

The photo, above right, was taken at the Shaker's village in Maine at a rehearsal for the fall concerts. From left to right, Anne Azéma, Brother Doug, Sister Frances (holding a bag of apples), Brother Wayne, and Joel Cohen.
---
An American Celebration rocks Faneuil Hall
<!IMG SRC="../images/ypm9901.jpg" ALT="youth pro musica choristers" align="left"> Along with the Youth Pro Musica (see photo, left), the Harvard University Choir, and the Middlesex County Volunteers, the Boston Camerata celebrated Joel Cohen's thirtieth anniversary as music director last October 23 at Boston's historic Fanueil Hall. The program was a retrospective panorama of early American music. Drums were rolled, voices were raised, a proclamation was read from the Mayor, and a good time was had by all. Joel says thanks.

The Faneuil concert was not the only big New World event last month. We also performed Nueva Espańa, our program of colonial music from Mexico and Peru, in the medieval cathedral of Pontoise, France, last October 12. The church was full, the audience cheered our musicians, and we hope to return to Pontoise another time. <!IMG SRC="http://www.warner-classics.com/erato/contentpics/cohen1.jpg" align="right">
Joel Cohen named artist-in-residence in Holland
Camerata director Joel Cohen, has been appointed by the Dutch government as artist-in-residence for the Netherlands during the year 2000. Joel will be in Amsterdam on October 13 to accept this appointment in a public ceremony.

Joel Cohen plans to give talks and performances to Dutch audiences about some of his favorite subjects: the roots of American music, the art of courtly love in France, and the intersection of Christian, Jewish, and Arabic influences in Medieval Spain. He will also serve as a consultant to the Utrecht Festival of Early Music.

note to Camerata fans: our performance schedules will continue unchanged. Just expect Joel to have somewhat bigger bags under his eyes from extra jetlags.
---
Provence Mystique is a hit in France
The French media review Télérama has just given its highest, ffff rating to this new Erato CD by Camerata's Anne Azéma and friends. Quoth the Télérama reviewer:

"The performance by Anne Azéma and her associates is seductive. The voices are beautiful and generous, with just the right touch of sensuality and warmth that has for too long been absent in this kind of ensemble; the instrumentation is ingenious."

In another new review from France, the highly respected journal Répertoire writes:

"A spiritual reflection... The clear and expressive voice of Anne Azéma finds the right tone each time: by turns mystical, playful, lively and even violent, when reprobation overwhelms the poet. Rigor and vigor in the inspired accompaniment, built around Shira Kammen's vielle..."

Provence Mystique, a compelling and beautiful program of sacred songs from medieval France and Spain, is now available as well in the United States.

---
Cantigas is Record of The Month in France!

Thanks to Répertoire magazine of Paris for this honor. This new recording of King Alfonso el Sabio's wonderful Cantigas features the Camerata Mediterranea, directed by Joel Cohen, and the Andalusian Orchestra of Fez. Morocco, directed by Mohammed Briouel. We have been posting news of this project since Joel's first trips to Fez in January of last year, and we are delighted that the recording is getting such a warm welcome (it also garnered five stars from another Paris review, Diapason.)
America, be patient...U.S. release of this pioneering recording project is scheduled for the fall. Meanwhile, Camerata friends in Europe can catch two performances of Cantigas, one each in France and Germany, in early September. (click here for the touring schedule.)
The live performances of this program, featuring some extraordinary intereactions among European and Arabic musicians, are experiences not to be missed (the usually-stolid Norwegians were stamping and cheering when we played in Bergen last May...)

Camerata tours Austria, France
<!IMG SRC="../trgraz.jpg">
Above: Anne Azéma, Andrea von Ramm, Joel Cohen, and Jesse Lepkoff in Graz, Austria
This summer we performed medieval music for the Austrians (Graz Festival), and early Americana for the French (festivals of Clisson and Saintes). Audiences were welcoming and generous to us everywhere. It was especially nice to have the legendary Andrea von Ramm back into our production of Tristan and Iseult. She is, as always, one of the important performers of our times.
And John, if you are online somewhere, this message is for you: we miss you.
---
Shakespeare in love?
Shakespearean Love!
(announcing a new Boston Camerata CD)
Want to hear some wonderful songs that the real Shakespeare probably knew? Check out the latest Boston Camerata CD, an anthology of ravishing vocal and instrumental pieces from Elizabethan England. This Erato recording is on sale in Europe, and will be available in the U.S. in May.
---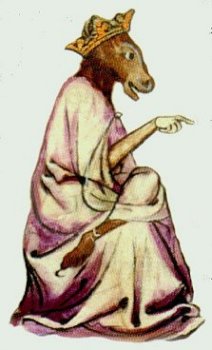 February, 1999
"Enormously entertaining..."
Fauvel wows 'em in France
(and at home, too...)
Eight years after Camerata's award-winning CD of this music appeared, Le Roman de Fauvel toured, live, for the first time. It was a long wait, but most everyone involved seemed to feel that it was worth it. The four concerts in Paris played to capacity halls, and the Strasbourg concert, too, drew a big crowd. The cast was ovationed everywhere, and the German paper Badische Zeitung sent a critic across the border to see what was going on. Here's what he wrote: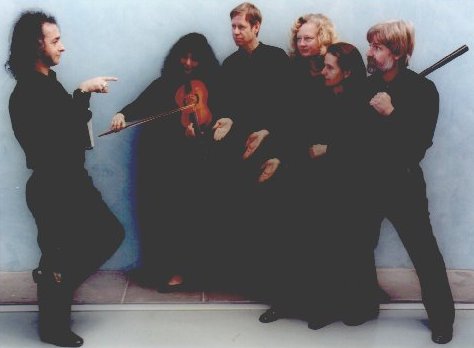 "Musikalisch wurde man von der sieberköpfigen Truppe mit hochspezialiertem Know-how verwöhnt, einem stilistischen Bescheidwissen das gleichwohl nie akademisch-trocken, vielmehr gefällig und mit parodistischem Pep ins Spiel lanciert wurde...Das Panoptikum früher Musik entfaltete sich vocal und instrumental behende, präzise in Phrasierung, Artikulation und Zusammenspiel....Ein farbiges Stück klingenden Mittelalters wurde hier lebendig."
"The seven-person ensemble regaled us with state-of-the art know-how; [their] stylistic expertise was never dryly academic [but rather] enormously entertaining, and delivered with high satirical energy ... A panorama of early music, vocal and instrumental, unfolded with precise phrasing, articulation, and ensemble ... A colorful work of the musical Middle Ages has been made alive again."
and here's how the Boston Globe played it:
" Camerata gallops to glory with 'Fauvel'. Saturday night brought the premiere of a new version in which Cohen delivered the narration in rhymed English.... The music is an anthology of styles of the period, sacred and secular, courtly songs, narrative lais, down-and-dirty popular hits, and elegantly polyphonic motets. Cohen has arranged these with his customary programmatic genius. A bit of chant heard at the beginning returns as the tenor line in a complex motet at the end; the emotional progress is from the scurrilous to the patriotic, the religious, and the sublime.

"The performance had an appropriately spirited and impromptu air. The cast sometimes sang straightforwardly from music, but more often entered into situations, assuming postures and making gestures derived from the illustrations in the manuscript.

"There were three professional singers - soprano Anne Azema, countertenor Michael Collver, and tenor Bruce Fithian. All of them were admirable, and Collver wittily used his timbre to make some coloratura in ''A tous jours sans remanoir'' sound like whinnying. His gallop around the stage was as convincingly horselike as his self-satisfaction was convincingly human.

"As Fortune, Azema enjoyed the most prominent role... Cohen burst into song, too, and so did instrumentalists Shira Kammen and Karen Hansen, providing a delightful mixture of cultivated and natural timbres. Collver returned the favor by supplying a too-brief bit of his virtuosity on the cornetto. Kammen's fiddle playing was a marvel of rhythmic acuity; she was making mordant observations, too."
We expect Fauvel to tour again, during February 2000, in the Netherlands. Stay tuned here for more information as it becomes available...meanwhile, the Erato CD can still be obtained through the Camerata office and elsewhere.
[photo, above: the 1999 Fauvel cast, l to r: Dominique Visse, Shira Kammen, Bruce Fithian, Anne Azéma, Karen Hansen, Michael Collver]

John Fleagle
After a long struggle with cancer, our friend and colleague John Fleagle died on May 17, 1999. Our heartfelt sympathy to the many people who know him, and to the many more whom he never met, but who were touched by the grace of his music.
"Et lux perpetua luceat eis"
---
(Early) Music News
Want to know more about us? Please click here for some older newsletters: The Boston Camerata Home Page.