Music Director Emeritus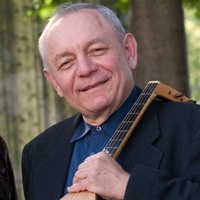 Joel Cohen , (born 1942) was the Music Director of the Boston Camerata from 1968 to 2008. He remains connected to the Boston Camerata as Music Director Emeritus. Cohen founded the Camerata Mediterranea in 1990 and incorporated it as a nonprofit research institute in France in 2007. He has collaborated very frequently with French soprano Anne Azéma. His professional honors include the Signet Society Medal (Harvard University), the Howard Mayer Brown Award, the Erwin Bodky Award, and the Georges Longy Award. He was a government-appointed artist-in-residence in the Netherlands during the year 2000, and is an Officier de l'Ordre des Arts et des Lettres of the French Republic. Cohen studied composition at Harvard University. He was awarded a Danforth Fellowship and spent two years in Paris as a student of Nadia Boulanger. In the 1970s he spent two seasons as a producer of musical radio programs for the French National Radio (France Musique), where he originated the concept of an all-day musical celebration on the days of the solstice. This annual event is currently known as the "Fête de la Musique" also known as "World Music Day".
Work in European early music
Cohen's initial projects in the early music field were in the area of the French and English Renaissance. His enthusiasm for medieval and Renaissance music continues to be reflected in more recent projects. His forays into baroque repertoire have been more episodic but have attracted widespread comment and attention: the first early-instruments recording of Purcell's "Dido and Aeneas"(Harmonia Mundi, 1980), and a well-received recording of Jean Gilles' "Requiem" (Erato, 1990, among others. From 1986 forward, many of his new Eurocentric projects dealt with music of the Middle Ages, including a medieval retelling of the "Tristan and Iseult" legend (Erato, Grand Prix du Disque, 1987).
Work in early American music
Cohen's interest in American vernacular traditions dates from his childhood.]. He was introduced to southern shapenote hymnbooks by the composer Randall Thompson. His first program with the Boston Camerata involving extensive treatment of early American oral and written sources was "The Roots of American Music" (1976), and later re-recorded (1986) as "New Britain". The commercial success of this last recording, leads Cohen and the Erato label to record a series of early American programs with the Boston Camerata, including "The American Vocalist", "Trav'ling Home", and "Liberty Tree". "Nueva España", commisioned in 1992 by the Tanglewood Festival and recorded by Erato has become one of the Boston Camerata's most requested touring programs. Cohen maintains an enduring personal relationship with the Shaker community of Sabbathday Lake, Maine, whose member agreed to record and perform their music in the company of the Boston Camerata and collaborating choirs. Two CDs of Shaker song (Simple Gifts and The Golden Harvest) commemorate these collaborations, which continued for several seasons from 1992 forward.
In 2004 Cohen and the Finnish choreographer Tero Saarinen create a dance piece, "Borrowed Light", using live Shaker music. This production has toured extensively in France, Germany, England, Sweden, Finland, Italy, and the United States, most recently at the Brooklyn Academy of Music in November, 2007. Intercultural musical activities
As early as 1982, Joel and the Boston Camerata had developed a program called "The Sacred Bridge," exploring Jewish and Christian interactions during the Middle Ages. The 1988 Erato recording has recently been reissued on Warner Classics. Recent performances have been undertaken with the U.S.- based Sharq Arabic Music Ensemble In 1997 Joel Cohen met the eminent Moroccan musician Mohammed Briouel for the first time. Their encounter gave birth to a recording of thirteenth century Cantigas by King Alfonso el Sabio with European and Moroccan musicians collaborating together. The Cantigas recording won the coveted Edison Prize in 2000, and has toured in concert extensively in the United States, Morocco, and Europe.
"A Mediterranean Christmas", with the Boston Camerata and the Sharq Ensemble, is Cohen's most recent recorded production (Warner Classics) exploring shared roots and musical practices.
In recent seasons Joel Cohen has also undertaken collaborations with Dünya, a Turkish music ensemble, and its leader, Mehmet Sanlikol. With Camerata Mediterranea, he is planning a colloquium in early summer 2009 around the subject of cross-cultural Mediterranean musical interactions, in the French village of Saint-Guilhem-le-Désert.
You may watch a video on Joel's Camerata Mediterranea here:
Why Camerata Mediterranea?
"An interview with reknowned early music maven Joel Cohen about his new intercultural musical institute. Paris, June 2008"