---
Sung by a celestial trio of female voices, accompanied by vielles and harp, "Heaven's Gate" opens the portals to an abundant treasure of song in French, both secular and sacred from the regions of Champagne, Picardy, and Lorraine. The compositions, by turns refined and aristocratic, and simple as folksong, all celebrate and praise the the Virgin Mary. Noble melidies in the refined trouvère style, narrations in word and song, and rollicking dance music with sacred texts, comprise in this production.

Featured composers are the prior of Vic-sur-Aisne, Gauthier de Coincy (1177/8-1236), a passionate and prolix musician-poet, who recounts the miracles of the Virgin that took place in his parish; Thibault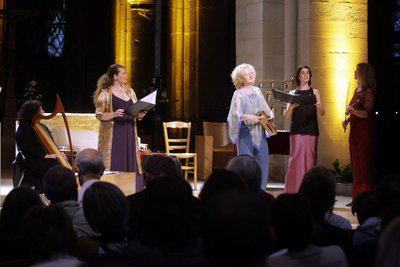 de Champagne (1201-1253), count of Champagne and king of Navarra, who praises the Queen of Heaven in the most elegant and subtle style; and a fraternity of anonymous minstrels who transform wordly songs of the day into vigorous, toe-tapping spirituals.

From the Reims press, l'Union, Portes du Ciel, June 2011:

"A dazzling concert last night by The Boston Camerata, which proved capable of adapting its performance style to the gamut of the works performed…In the oldest church of Reims, Saint Jacques, the group's women presented a program conceived as a witness to medieval devotion to the Virgin, and as a homage to the famous Angel of the cathedral, whose smile became newly visible."

"Religious music need not necessarily be austere, as the Boston Camerata so brilliantly demonstrated… How not to melt with tenderness at the magnificent interpretation of Jennifer Ellis Kampani? How not to be transported by Anne Azéma…or to resist tapping one's feet at the dancing of Shira Kammen, the vielle player? "